I N F R A is made up of mediators who link their professional practices with experimental sound, in each laboratory the participation of local mediators who contribute from specialties such as:
Víctor Mazón Gardoqui
Spain / Germany
---
Senior and professional educator working with open-hardware and experimental circuit design. Mazón Gardoqui Investigates in
RIAT
(Reserach Institute for Art and Technology - Vienna), coordinates seminars and educational formats in the domain of the study of experimental sensory devices and applications. His artistic practice explores amplification, electromagnetic phenomena, and invisible field images through the use of locative audio and custom electronics. Links:
https://victormazon.com
https://espaciario.space
Guely Morató Loredo
Bolivia
---
Artist, curator and culture manager. Graduate in Social Communication Sciences, with a specialty in Cultural Studies. She is the founder and director of Sonandes Arte Sonoro, a platform dedicated to the promotion and dissemination of contemporary sound practices, active since 2014. She has developed as a professional in theater and cinema, being part of numerous international film projects. Later, she trained in electronics and programming, devoting her attention to expressions related to new media. Links:
https://sonandes.org
https://espaciario.space
Ricardo Schnidrig
Argentina
---
Artist, musician and music producer. Programmer for synthesizers, drum machines, samplers and other electronic musical instruments. Since 2012 teaching courses and workshops on construction of unconventional electronic musical instruments and DIY culture in different institutions, festivals, universities and cultural centers in Argentina and Bolivia. Co-creator of DLP_electronics. Space dedicated to research and development of different projects related to sound, art and electronics. Design and manufacture of sound devices. Realization of live shows. Dictation of workshops in order to promote and expand these practices. Links:
DLP_electronics
Cristina Collazos
Bolivia
---
Graduated in Fine Arts from the University of Art and Social Sciences ARCIS, Santiago de Chile. Co-creator of "DLP electronics". Since 2015, he has explored art and sound experimentation, electronics and music, participated in different international festivals and compilations of experimental music and sound art, taught courses and workshops related to sound, art, technology and DIY culture in different institutions and Festivals. Creation residencies in Tarija and Cochabamba within the framework of the SONANDES Sound Art Biennial, International Festival of New Sounds NUSON, Simón I Patiño Foundation, VII Meeting of Sound Experimentation in Latin America INTEGRATIONS. Links:
DLP_electronics
I N F R A has developed the project together with
Angela Fuentes
Bolivia
---
Bilingual teacher of deaf people, psychologist, LSB interpreter, current teacher at the Simón Bolívar Higher Teacher Training School. Her approach to theater and her stage training have strengthened her profile as a performer and researcher within the deaf community. Links:
https://victormazon.com
Lukas Kühne
Uruguay / Alemania
---
German sound sculptor. His best known works consist of resonant concrete chambers that are tuned to react to certain tones. He founded the Experimental Forma y Sonido Workshop in 2005 and the Monteaudio International Sound Art Festival in 2013, both at the University of the Republic in Montevideo. Site-specific sculptures are found in public spaces in Estonia, Finland, Iceland, Germany, and Uruguay. Link:
http://www.lukaskuehne.com/
Camilo Cantor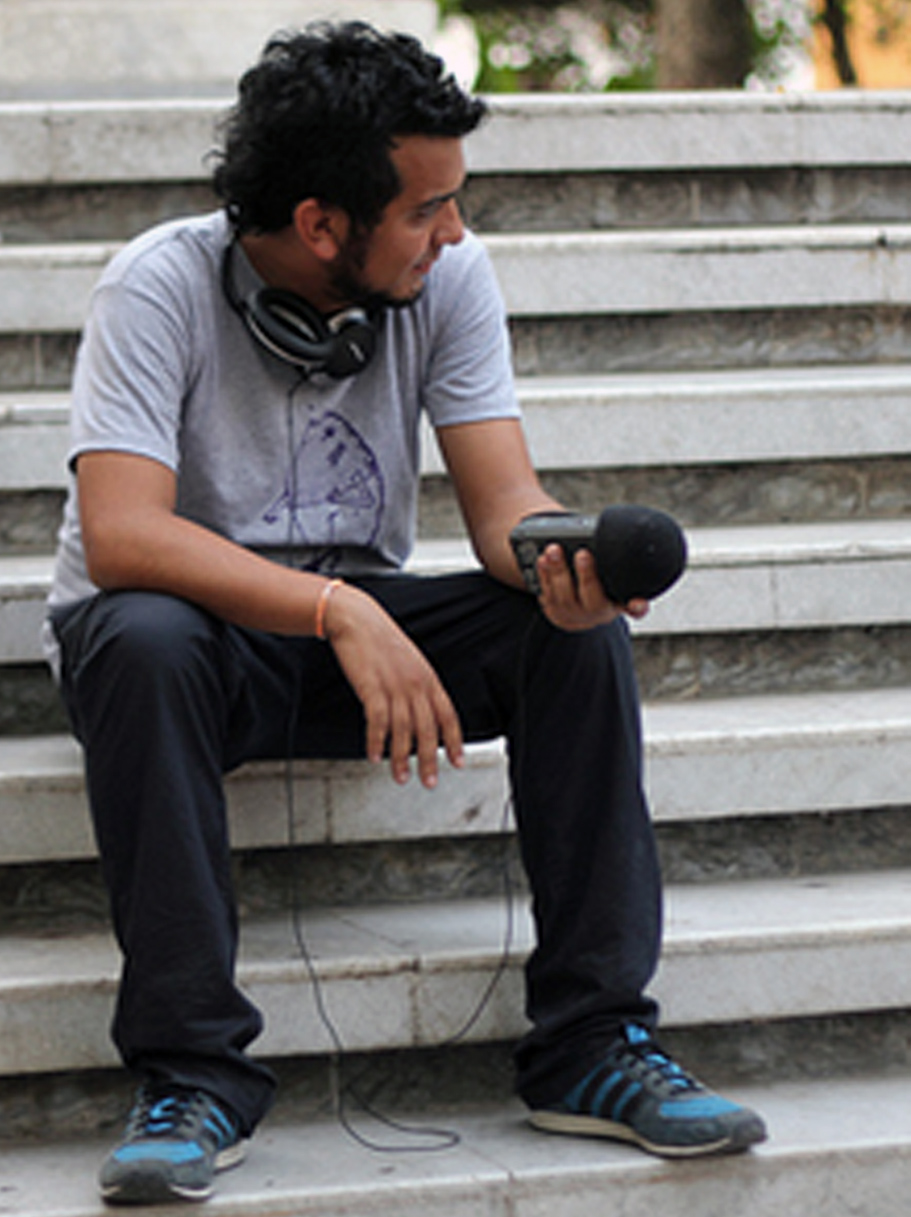 Colombia
---
Coordinator of the Exploratorio: public experimentation workshop of the Parque Explora, a setting for participation, training and the development of citizen capacities, based on technical and technological appropriation. Cantor is a digital artist and industrial designer with experience in the creation and administration of collaborative strategies on the Internet and in the management of artistic projects. Links:
www.cartografiasdelazar.org
www.sonema.org
Pablo Gallo
Electronic development
Spain
---
Graduated in Fine Arts from the University of the Basque Country UPV-EHU in the specialties of Painting and Audiovisual. Since 2015 Acoustic engineer and product design at 000 Open hardware modules, Spain / Germany. Co-founder of Medialab MP19 Open Hardware Research, Santander and specialist in customization and repair of electronic equipment specializing in analog and tape equipment. Since 2010 he has held workshops internationally on open-hardware and sound design and analog instruments.
AutoDeFe
S∆G∆∆N
Agostina Poggio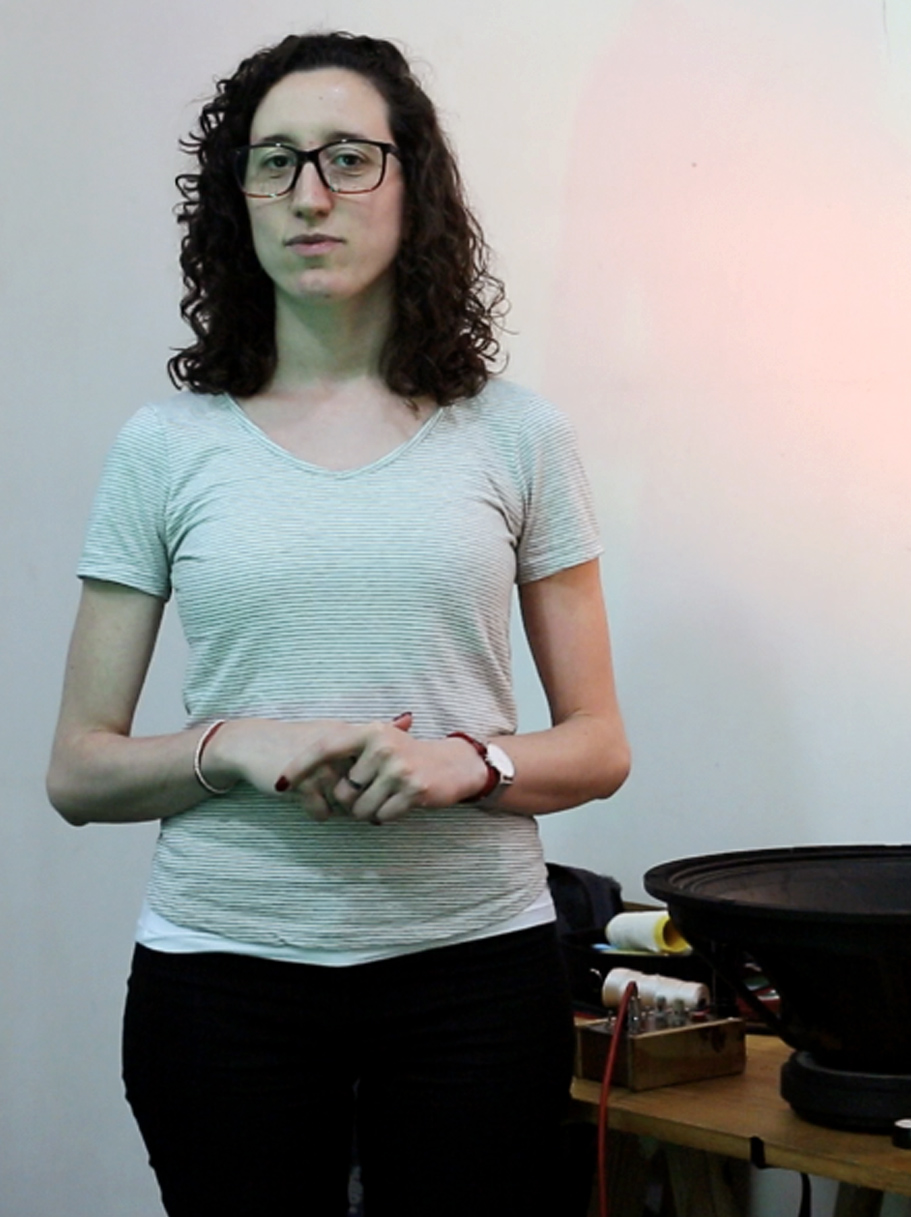 Mediator - ASO Vice President
Argentina
---
I was educated in elementary school at the Instituto Oral Modelo, a specialized school for the deaf. In high school, I chose to study in a common school with hearing people, it was difficult for me to integrate because of my deafness but thanks to this, I can communicate without fear with society. I study law to fulfill one of my most precious dreams, to improve and defend the rights of people with disabilities, especially deaf people. I am currently the Vice President of the Argentine Association of the Deaf (ASO). Links:
Argentine Association of the Deaf
Guille Aemilius
Uruguay
---
Industrial Designer, professional, teacher, Works in Design, creative, graphic and industrial. He teaches Industrial Design and at the Rubbed String Luthería School workshop in Montevideo. He teaches workshops and creates musical instruments suitable for people, deaf, hard of hearing and cochlear implanted, where they are built by themselves. Links:
WEB
Cristian Martínez
Argentina
---
Teacher and sound artist. He studied audiovisual production at IDAC, wrote plays (Uraniburg, Tycho Brahe's eternal hair) and directed the audiovisual collective Palo y a la Bolsa. As of 2010 he trained as a self-taught unconventional luthier, assembling instruments without history with discards and broken things, proclaiming the word of piezoelectricity.
Federico Sykes
Argentina
---
Mediator in Buenos Aires Director and general producer of the International Deaf Film Festival (FICSor), designed and organized by deaf people, with national and international films about their culture and language, carried out since 2013. Links:
FICSor
INFRA participates together with mediators and experts in:
Pedagogy Interest in an inclusive pedagogy with a profile in the arts, sound or music
Acoustic engineering Interest in vibration and the design of amplification and resonance systems.
Architecture Interest in immersive spaces, resonant architectures of easy construction.
Biology Interest in biotechnology, proprioception and in the extension of the senses